Student Friendly Environment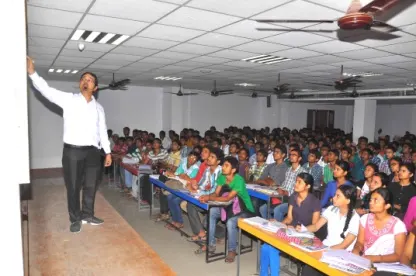 AC CLASSROOMS & LABS (PHYSICS & CHEMISTRY):
Classroom teaching in L-1 Coaching is a class apart too. Gone are the days of crowded classrooms where students struggled to pay attention in class in the heated environment. The belief that students should be attentive in class, impelled us to design spacious, noiseless AC classroom & labs where they find highly conductive learning environment.
Adequately furnished library a fascination to ease you to consult any trouble with oriented teachings. E-library is an innovative feature of Institute probably first in the state, that has planned to deliver recorded sumptuous lectures along with online book facilities.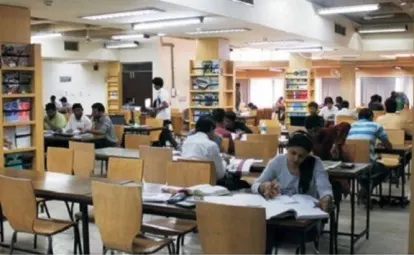 The institute is obviously a glory to the city in view of growing demands of learning. L-1 coaching provides a quiet and calm facility for study individually among the students in the temple of learning transcend to higher level of consciousness to feel the dignity of labour.
It helps the teachers to access multimedia content and information that can be used for teaching students more effectively. It helps the teachers in expressing their views and ensures teacher that every student is understanding and learning. Smart Class helps the students in understanding the concepts. A well designed module allows a student to visualizes the concept much better than static images.
Smart class is an effective way of teaching method. It is entirely different from the old way of teaching by writing on black boards. In this new era of technology smart class is a step towards development. Here projectors or screens are raised where students can visualize and learn almost everything. They get a chance to see the experiments, incidents etc. They can hear, see and learn through smart class. It is an interesting method of learning and students get a chance to escape from the boredom of sleepy classes.
BIOMETRIC ATTENDANCE SYSTEM::
Biometric technology can be used as a type of students time management system because of its ability to recognize people's unique physiological characteristics. Biometric based time and attendance terminals are becoming increasingly popular in today's modern era because of their many benefits (and, lets face it, hand or face scanning equipment is just pretty awesome). Because biometric terminals read a person's unique fingerprint.
And by the use Biometric Attendance System we can inbox you your child in time in our institute and if your child is absent by any cause again we will inbox you about the absence of your child.
In computer lab we will facilitate the pre-recorded lectures of all the subject for those who have doubts or miss a lecture by any course.
We provide students computer labs so that they feel comfortable while taking the online exams. We have established a 100+ computer's with brand New Computers with a high configuration System.